Supplemental Religion Plan
JOIN US!  Become an RSRO Minister.  We ordain at minimal costs!
Need someone to perform a wedding?  List of Ordained Ministers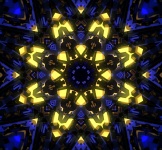 Don't give up your belief and faith (or lack thereof), just enhance it.  Science answers the question of how and Religion answers the why.  The disciplines are two sides to the same puzzle.   For example:  Is a Ford engine a fuel-based combustion engine or is it Ford's creation?  Clearly, it is both.  If you need a more scientific example, Feynman's QED works well, but it does not explain light.  He had to explain this many times when the other great physicist challenged him.
WARNING:  Please check with your own parent religion plan to see if you are committing heresy before you spiritually "buy into" this supplemental plan.
We search for absolute truths.
What is absolutely true is always correct, everywhere, all the time, under any condition. An entity's ability to discern these things is irrelevant to that state of truth." —Steven Robiner[2]
The List of Absolute Truths and your involvement in this religious organization is dependent upon your activities at our Seminary, American Trinity University.  You must pay a very modest amount for your degree by making a single or monthly donation to the Church.  Seminary attendance is free.
Need more information?